Welcome treats!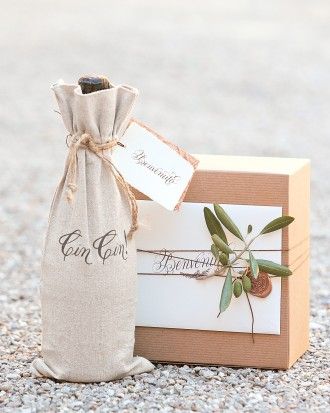 #weddingstips
Buon Pomeriggio a tutte!
Great dilemma today submitted by one of our lovely bride… how to organize nice, elegant, formal and surprisingly welcome bags for your guests. The word itself "welcome bag" means that you're offering something to welcome .. and considering that you've asked to friends and family member to face with a long trip to reach you in Italy.. well there's nothing better to welcome them with a nice Italian welcome treat! Give a look at the nice welcome pack from the romantic wedding of John Legend and Chrissy Teigen   …. for their romantic wedding on lake Como.  Well we do not know what's inside.. however the elegant packing says everything about Italy. Olive leaves, burlap bag and romantic twine… maybe instead of Cin Cin they should wrote "Salute" ! but it is so cute that you cannot help unwrapping it immediately!
Coming back to our wedding… the best things to add in your welcome pack are:
Drink – of course you're in Italy so wine / Prosecco or Limoncello are really appreciated;
Eat – local biscuits- maybe also produced by a local bakery – you can choose directly and ask to be delivered on the day of guests arrival;
Smile – a nice photo (better if a polaroid) of bride & groom with written "Welcome to our extraordinary wedding!";
Scent – you need to incorporate something frivolous for the ladies – so a nice Italian parfume will be perfect such as something from the Ferragamo's collection or Acqua di Parma – you can order also mignon bottles that can be easily transported while travelling around the world.   And for the men.. well you can go with a excellent Italian (Toscano) cigar or a good hand-made tie (Marinella).
Do not forget to add a personal touch – a couple of lines handwritten where you personally thank your guests for being part of a such important moment of your lives.
That's all! And do be creative with the packaging.. but always elegant and chic!
hello@theknotinitaly.it
(photos via Pinterest  – research Rossana @TheKnotInItaly)