5 food ideas & reception meals styles for destination wedding in Italy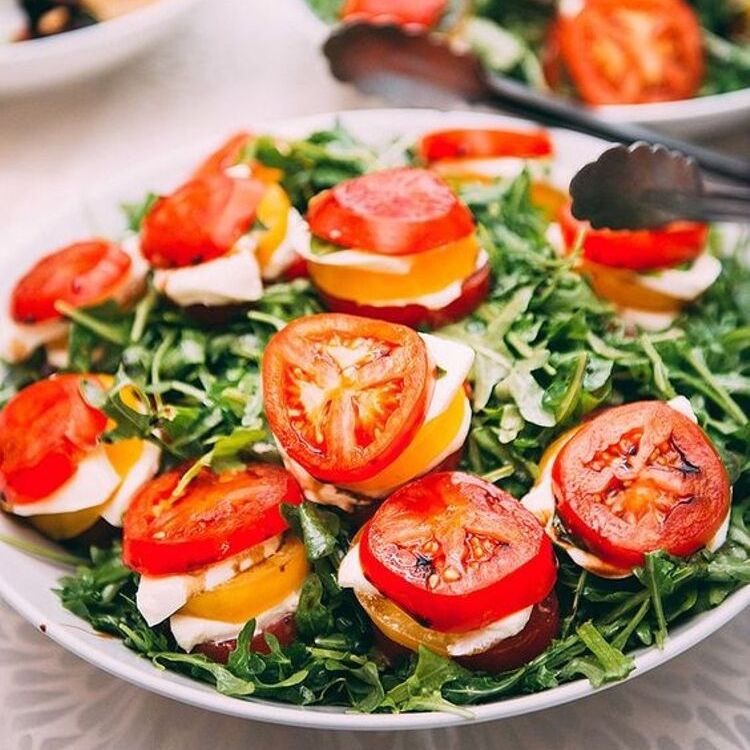 After choosing a Venue and your planner, the next big decision brides need to take is what kind of food will be perfect for a traditional Italian wedding.  Couples pretty much had two choices when it came to decide for the wedding meal: a sit-down dinner or a buffet.  Now as you certainly know for THE Italians, food followed by excellent wines, is the fundamental of the good living and the plated sit-down dinner is the most recommended option, however we have narrowed down the most popular styles along with pros and cons for each.
Buffet Style
In case you opt for an early afternoon breakfast (for the Italians early afternoon means from 1pm to 4pm), a buffet style can be a perfect idea above all if the wedding reception take place in gardens or forests.
Pros: you can decide how to display the food creating maybe a real journey among the local specialities.  (from Tuscan cuts, to cheeses, to desserts and combine with different kind of bubbly wines.).
Cons: couples tend to consider the buffet style cheaper, however for most caterer service the buffet implies a huge work to select the food and the last trend is to hire a food designer to display the specialities according to the theme of the day.  so not always affordable as choice.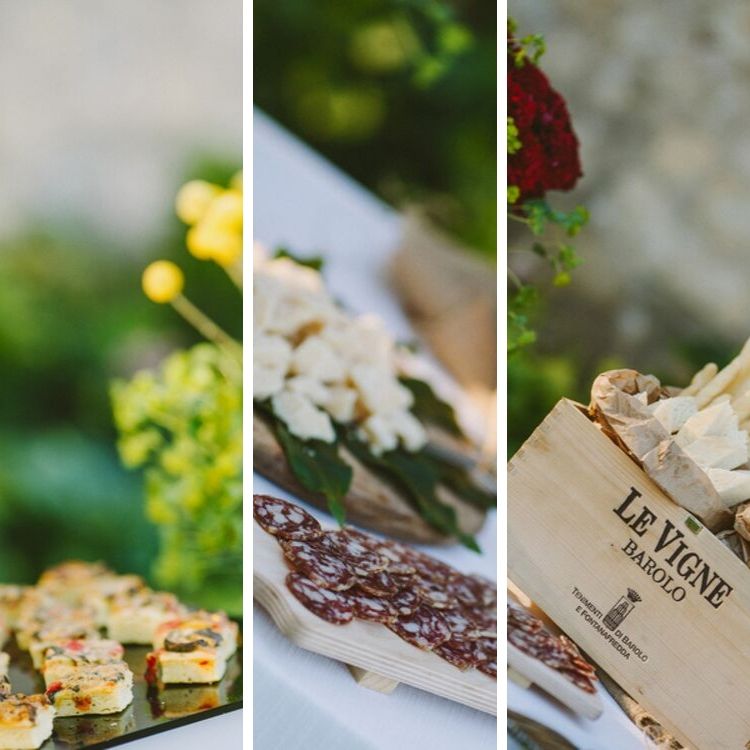 Family Style
Similar to a sit-down dinner, a family style reception has guests' seats assigned and waiter bringing the food on the table.  Large portions of the food are placed on each table on serving platters for guests to fill their own plates.  (like at your home!).
Pros: This kind of service is perfect for those opting for a cosy destination wedding – like renting a villa and have only a few family members joining to the celebrations.
Cons: The family-style has nothing to do with the Italian traditions and it is not recommended for lager groups as you run the risk of having more a street party than a wedding meal.

Cocktail hour
A more recent trend the cocktail-style reception is perfect for an elegant and understated wedding reception on a lake or by the sea.  It is composed of small bites most of the time served on tray by the waiters circulating for a couple of hours.
Pros: if you decide for a late afternoon ceremony, the cocktail hour can be perfect.  Please remember to organize a small snack late in the evening in case you're having a dancing party.
Cons: please clearly specify in the invitation "please join us for a cocktail reception after the ceremony" as some guests may not have attended to the cocktail and expecting to have a full meal after.  Sometimes the food costs might be lower, but guests will likely drink more, so your alcohol cost might go up.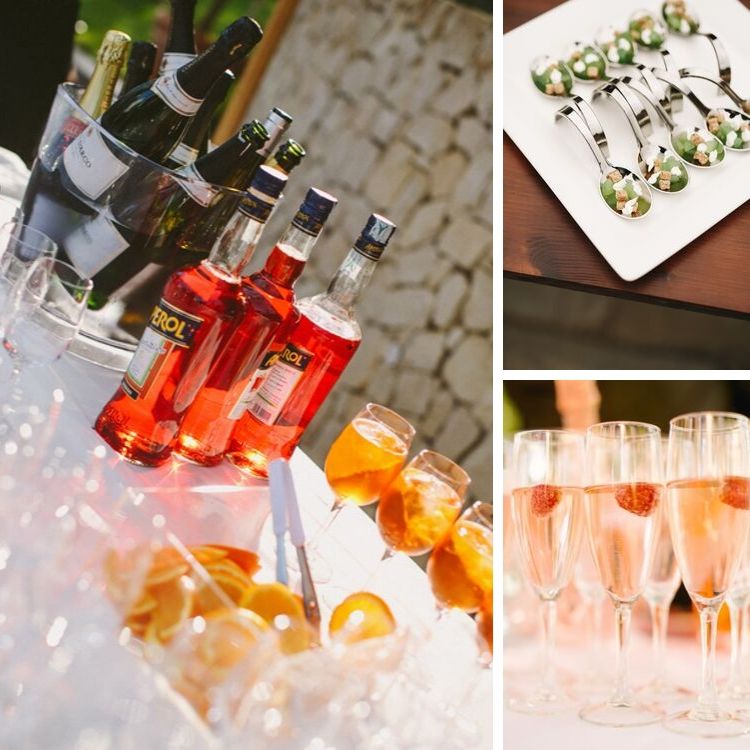 Classic Plated dinner
This is what all the Italians loooove! This is a traditional option where guests are seated and served a formal dinner. Typically guests are served one entrée, one or two pastas courses, one or two main courses and a dessert.  To keep in mind: in Italy to more opulent is your meal the wealthier is the couple.
Pros: Expect the caterer to require the final number of guests  list 15 days before the wedding so they can plan their organization.  Everyone at the table gets their food at the same time and you can spread out the activities during the meal (like speeches, first dance ect)
Cons:  The food options are limited to what you picked and confirmed during your tasting.  So in case of very very picky eaters among yrou guests, expect they may not eat everything on their plate.  Some caterers offers lots of alternative courses for those picky ones, but you may be charged extra.

Food trucks
We are not considering food trucks for weddings.  Deeply sorry, but here at TheKnotInItaly we have a long-lasting tradition of gourmand staff and for us is more a sacrilege to opt for trucks for pampering your guests.  Thank you.
We can only  take into consideration the option of a cute Ice-Cream cart.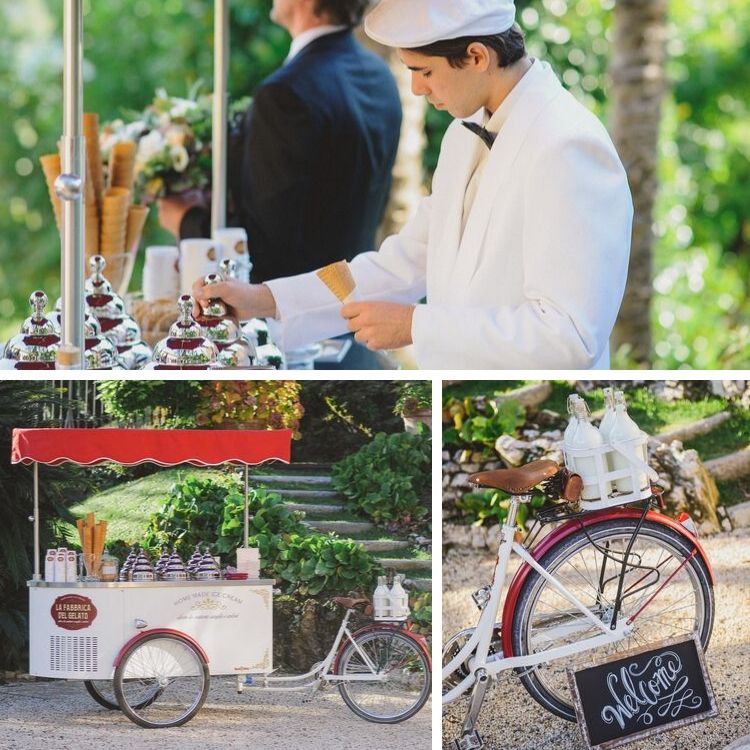 Pic courtesy of Cinzia Bruschini, Lisa Poggi, Studio A+Q, L&V Photography, C. Facibeni & Via Pinterest.