Top travel apps to travel around Italy!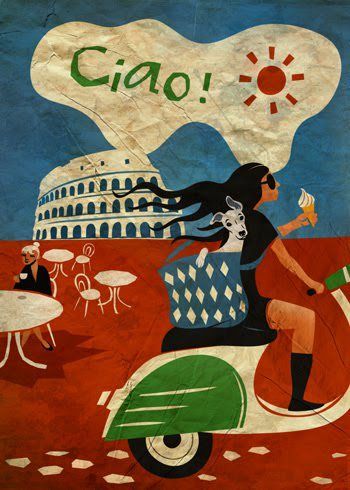 #littleitaly
Hurray! It's summer, we're ready to travel and scout around! Whichever is the reason why you're travelling all around Italy, tourism, wedding venue hunting, sport… et voilà the best apps to add at your list before leaving!
Enjoy them!
Italian Menu Decoder  is a very useful app for anyone visiting any part of Italy. Written by Dana Facaros and Michael Pauls, authors of 26 Italy guides, this app is based on over 30 years of research. With over 6,000 definitions of common food and drink vocabulary, a helpful pronunciation guide and several thousand photos, you can rest assured that you'll never get served a plate of Casu Marzu when you'd just like a simple plate of cheese.. Available for both Iphone and Android.
Rick Steves  Italian App is basically the bible of tour guide apps for Italy and most any other country in the world for that matter. One of the world's most respected travelers, Rick Steve manages to answer all of your travel questions before you even realize you have them. The Italian section of his European Travel App is an in-depth look at all the Italian essentials you'll need to help plan the perfect trip. Free. Available for both Iphone and Android. –
Trenitalia's iphone App is the best way to access train timetables and buy tickets while in Italy. No matter how long you're planning to visit, traveling by train across this gorgeous country is a great way to see some of its best features. Not only useful for the daily time schedules and routes, but you can also buy tickets through the app. Free. Available for both Iphone and Android.
Tuscany Wineries App   let's you explore the best of Tuscany or at least, the best of its lovely, rich wines. There are over 700 wineries in this picturesque region and this app helps you choose which ones you'd like to visit by listing opening hours, winery tours and fees and a map of the region. It also provides information on the surrounding area, restaurant recommendations, Available for both Iphone and Android. –
Explore the Uffizi with confidence. Created by an art historian, with this app for the Uffizi gallery in Florence you'll not only learn the name, title, date and author of the work but also why the piece is important in art history. Available for both Iphone and Android.
Agriturismo    HURRAY! . the Agriturismo website has been converted into a wonderful little app to help travellers find the best farmhouses in Italy. Helping you arrange last minute stays, you'll also benefit from discounts, and discover the real Italy, its nature and the true tastes.
Buone Vacanze!